Physician's Training
Physician's Training: Mandated Reporting of Child Abuse and Neglect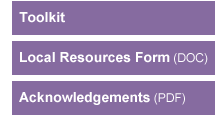 Welcome to Mandated Reporting of Child Abuse and Neglect, a self-paced training for physicians and other medical providers, with funding provided by Cal OES (California Governor's Office of Emergency Services).

This training, developed by the Child Abuse Prevention Center in collaboration with a panel of physicians and child abuse experts, is comprised of 5 self-paced modules: Physical Abuse, Sexual Abuse, Emotional Abuse, Neglect and How to Make a Report. The first four modules provide information regarding how to properly screen for and recognize child abuse. Clinical scenarios and photographs are provided to enhance learning, and interactive quizzes give you the opportunity to test your knowledge. Once you have completed the first four modules, you will have access to the final module, How to Make a Report.

Upon completion, return to the InReach webpage to take the final test for CME accreditation.
Please Note: The PDF attachments linked from the training module will not open in Internet Explorer. We recommend using an alternative browser -- such as Firefox, Chrome, or Safari -- or you may download the PDF documents prior to beginning training by clicking here.
CME CREDITS
The California Medical Association (CMA) designates this enduring activity for a maximum of 1.25 AMA PRA Category 1 Credits™ (Enduring).

If you would like to take the course for credit, you must first purchase credits through the Institute for Medical Quality (IMQ) by clicking here.

Funding for this training was made available by a grant from the Cal OES (California Governor's Office of Emergency Services) (IT11028548) through a federal Children's Justice Act grant. The opinions, findings, and conclusions in this publication are those of the authors and not necessarily those of Cal OES. Cal OES reserves a royalty-free, non-exclusive, and irrevocable license to reproduce, publish, and use this material and to authorize others to do so.