California Family Resource Association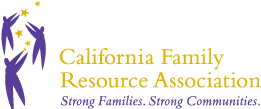 Founded in 2005, the California Family Resource Association (CFRA) is a statewide membership association representing more than 300 organizations that serve California's children and families.
CFRA serves as the united policy voice of California's family-strengthening field. We work collaboratively with our membership to move children and families to the forefront of policymaking in California, and promote Family Resource Centers as vital service-delivery partners. CFRA's advocacy approach includes direct action at the state level to educate policymakers, build champions, and shape legislative and regulatory policy. We simultaneously work to build the capacity of our members to advocate for policy change at the local level, partner with local government and strategic community allies, and achieve sustainability.
Join us as we work to build vibrant communities that put children and families first.
Use CFRA's interactive map to find a Family Resource Center.